Features
Case management and error reporting
system for property owners, wholesalers
and service companies
Always available, no programs to install, everything is in the cloud
What can Piccolo do for you?
Piccolo is custom made to fit the needs of your company.
Suitable for these roles:
Don't let anything fall through the cracks.
Full control and overview
Easy to plan, prioritise and organise your tasks
Suitable for these companies
Avoid duplicate administration
All tasks get directly into Piccolo from your website - without any further processing. All necessary information at your finger tips.

Create new tasks on the field directly into Piccolo.
The customer is continuously kept
informed about his case at all times
Leading to fewer customers calling and asking about the status of their case.
You get to focus on vital tasks.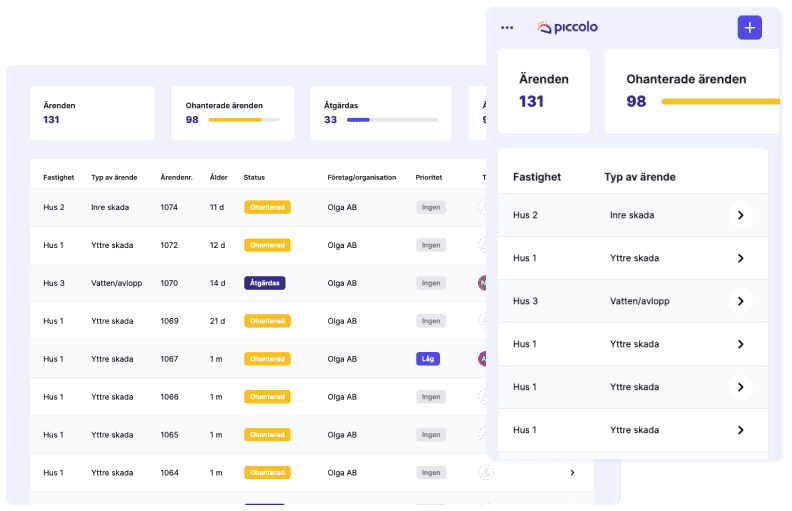 Full overview
on all issues
Easy to prioritise and plan efforts.
Sort and filter based on location and tasks.
Nothing is forgotten. Easy to plan your workday.
Easy division of labour with all necessary information
You can give instructions on what needs to be done and share tasks with coworkers.
Add images to show the full picture.
Ask additional questions to the client directly via Piccolo.
Keep private notes, invisible to the client.
Get feedback on every issue
Get to know on a property, staff and case level what you're good at and what you need to improve. No more waiting for outdated yearly customer satisfaction reports.

Stay ahead with live feedback.
Adapt Piccolo to your specific company needs
Add your own properties, premises and types of errors and cases. Piccolo is customisable to match your routines, processes and your specific errands.
Let visitors park / check in for free with their mobile phones.
Avoid paper-scraps and cumbersome systems.
Make sure your real guests have parking spaces.
Shut out the parasites.
Get reports on who is parking.
Easy to check for the parking guard company.
Invite your subcontractors
No training required
Easy to get started
Get live feedback on their tasks.
Measure time, costs and what has been done.
Report performed and billable time
Report on the go.
No further administration necessary at home or the office.
Export for easy invoicing.
Reduce the risk of forgetting to send invoices.
Through Piccolo, we got more efficient use of resources and significantly more satisfied customers.
Piccolo helps us secure transactions that we would otherwise have missed to deliver and invoice. Our customers receive a faster response with feedback and can clearly follow their case.
Join Piccolo and put order
on all your cases
Pay only when you use Piccolo
No unnecessary payments. You only pay for the months you use Piccolo.
No lock-in periods or complicated cancellation rules. Just as it should be.
The perfect solution for smaller organizations.
*No set-up fees on annual plan until Wednesday
The perfect package for most companies.
*No set-up fees on annual plan until Wednesday
For enterprises with high demands on integrations
*No set-up fees on annual plan until Wednesday
Offer valid until Wednesday.
Book a free 1-on-1 call with a Piccolo expert
for setup suggestions and feature recommendations.
Frequently
asked
questions
Suggest a feature you are missing!
Have we missed something that is vital to you?